NOOK HD: The Missing Manual 2nd by Preston Gralla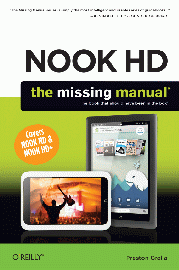 You can do many things with NOOK HD right out of the box, but if you really want to get the most from your HD or HD+ tablet, start with this book. With clear instructions, full-color illustrations, and savvy advice from technology expert Preston Gralla, you'll learn how to use email and the Web, watch movies and shows, play games, listen to music, and enjoy your personal ebook library.

The important stuff you need to know:

Relax with a book. Load your NOOK library with ebooks, comics, and interactive books for kids.
Play with apps. Enjoy the games and apps everyone's talking about.
Go online. Browse the Web and check your email with built-in WiFi.
Be social. Share books and recommendations with your NOOK Friends, and Facebook and Twitter contacts.
Take in a show. Watch movies and TV series, and listen to your favorite music anywhere.
Read all about it. Subscribe to a variety of magazines and newspapers.