Microsoft Project 2010 In Depth by QuantumPM and Scott Daley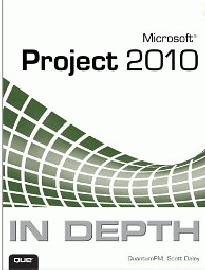 This is the world's most expert, complete, and practical guide to succeeding with Microsoft Project 2010! World-renowned project management consultants QuantumPM help you improve Project 2010 planning, scheduling, resource assignments, budgeting, collaboration, workload analysis, progress reporting, completion, closure, and more. Get comfortable with Project 2010, leverage its immense power, and tailor it to your unique needs–no matter how large or complex your project may be!



Real solutions, new techniques, innovative shortcuts!

• Get started fast with Microsoft Project 2010 and its new Ribbon interface

• Plan and initiate your project to maximize the likelihood of success

• Create an effective preliminary project schedule

• Accurately define task logic and project resources

• Prepare work formulas and schedule resource assignments

• Refine and review your schedules, and perform an effective "Reality Check"

• Use Project 2010 to collaborate more efficiently with colleagues and partners

• Track progress and costs, and analyze project performance

• Customize Project 2010's reports, views, tables, filters, groups, fields, toolbars, menus, and forms

• Work with multiple projects at once, and resolve complex resource allocation problems

• Analyze and present Project data in other applications, including Excel and Visio

• Identify and solve problems with your project and with Project 2010 itself



All In Depth books offer

• Comprehensive coverage with detailed solutions

• Troubleshooting help for tough problems you can't fix on your own

• Outstanding authors recognized worldwide for their expertise and teaching style



Learning, reference, problem-solving…the only Project 2010 book you need!