Professional WCF 4: Windows Communication Foundation with .NET 4 by Pablo Cibraro, Kurt Claeys, Fabio Cozzolino, and Johann Grabner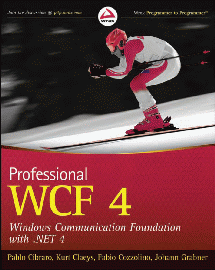 A guide to architecting, designing, and building distributed applications with Windows Communication Foundation

Windows Communication Foundation is the .NET technology that is used to build service–oriented applications, exchange messages in various communication scenarios, and run workflows. This guide enables developers to create state–of–the–art applications using this technology.

Written by a team of Microsoft MVPs and WCF experts, this book explains how the pieces of WCF 4.0 build on each other to provide a comprehensive framework to support distributed enterprise applications. Experienced developers will learn both theory and practical application using the familiar Wrox approach.

* Windows Communication Foundation is used in a variety of service–oriented applications and will be used by almost every .NET developer
* This book is a comprehensive guide to architecting, designing, and building .NET applications with WCF 4
* Shows how to design and build three sample WCF applications covering the most important communication scenarios
* Examines design principles and patterns, technology, implementation, and operational issues
* Covers both the technical aspects of the WCF 4 stack and the practical issues developers will encounter

.NET developers will learn to design services, create a hosting environment with Dublin, build cloud–based integrations, and much more.