iPod: The Missing Manual 8th by J. D. Biersdorfer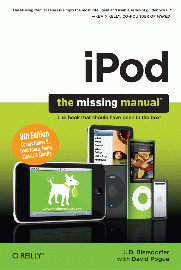 With iPod and iTunes, Apple's gotten the world hooked on portable music, pictures, and videos. One thing they haven't delivered, though, is an easy guide for getting the most from your sleek little entertainment center. Enter "iPod: The Missing Manual," 5th Edition-a book as breathtaking and satisfying as its subject.

Our latest edition thoroughly covers the redesigned iPod Nanos, the video iPod, the tiny Shuffle and the overhauled iTunes 7. Each custom-designed page sports easy-to-follow color graphics, crystal-clear explanations, and guidance on the most useful things your iPod can do. Topics include: Out of the box and into your ears. Learn how to install iTunes, load music on your iPod, and how to get rid of that dang, flashing "Do not disconnect" message. Bopping around the iPod. Whether you've got a tiny Shuffle or a big-screen model you'll learn everything from turning your iPod off and on to charging your iPod without a computer. Special coverage for iPod owners with trickster friends: How to reset the iPod's menus to English if they've been changed to, say, Korean. In tune with iTunes. iTunes can do far more than your father's jukebox. Learn how to pick and choose which parts of your iTunes library loads onto your iPod, how to move your sacred iTunes Folder to a bigger hard drive, and how to add album covers to your growing collection. The power of the 'Pod. Download movies, play photo slideshows, find cool podcasts, and more: this book shows you how to unleash all your iPod's power.

iPod is simply the best music player available, and this is the manual that should have come with it.