Stealing the Network: The Complete Series Collector\'s Edition, Final Chapter, and DVD by Johnny Long, Ryan Russell, and Timothy Mullen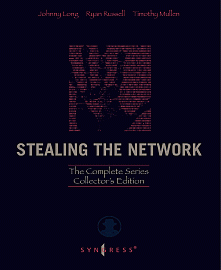 Review
"Stealing the Network: How to Own the Box is a unique book in the fiction department. It combines stories that are fictional with technology that is real."--Jeff Moss, Founder and CEO of Black Hat

"Stealing the Network (STN) is an entertaining and informative look at the weapons and tactics employed by those who attack and defend digital systems. There's plenty to be learned by reading STN, and I hope to see sequels."--Richard Bejtlich, founder of TaoSecurity, Author The Tao of Network Security Monitoring, Top 500 Amazon Reviewer.