Technologies for the Wireless Future: Wireless World Research Forum, Volume 3 by Klaus David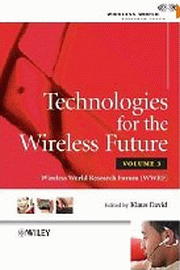 The third volume of the influential WWRF Book of Visions of research and trends in mobile communications has been fully updated. It includes three new chapters on flexible spectrum use, ultra-broadband convergent home-area networks, and the system concept. Visions from manufacturers, network operators, research institutes and academia from all over world are captured by the WWRF in one comprehensive single point of reference.

Technologies for the Wireless Future, Volume 3 describes the expectations and requirements of a user in the 'future wireless world' between 2010 and 2017. This will enable readers to prioritise research topics based on the provision of cost-effective solutions. This book is ideal for researchers from both academia and industry, as well as engineers, managers, strategists, and regulators.

WWRF has become highly influential on the future of wireless communication. You can see the evidence already, as many of the concepts described in the very first Book of Vision have been adopted in today's wireless implementations. The organization brings together the long-range views of academia with the practical constraints and requirements of industry. This is a powerful combination.