Oracle Essbase 9 Implementation Guide by Joseph Sydney Gomez and Sarma Anantapantula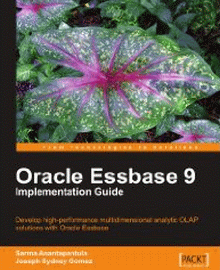 Develop high-performance multidimensional analytic OLAP solutions with Oracle Essbase

* Build multidimensional Essbase database cubes and develop analytical Essbase applications
* Step-by-step instructions with expert tips from installation to implementation
* Can be used to learn any version of Essbase starting from 4.x to 11.x
* For beginners as well as experienced professionals; no Essbase experience required

In Detail The hot new data analysis trends involve business intelligence and analytics. The technology that supports business intelligence and analytics better than anything else is today's multidimensional OLAP technology - and there is none better than Oracle Essbase! Although storing data in a cube and developing analytical applications leaves many people grasping for understanding, especially if their experience is with relational databases, embracing OLAP technology will pay big dividends in the long run.

It's easy to develop multidimensional analytic OLAP solutions when you have got this Oracle Essbase book to hand. It is a step-by-step guide to timeless Essbase fundamentals, which takes you from a basic software installation through to launching a fully functioning Essbase database cube.

This book will guide you through every stage of installing Oracle's Essbase software on your analytic server, the Essbase Administration Services client, and the client software itself. You will learn, in easy-to-understand language, the concepts of multidimensional database technology as you are taken step by step through building an actual Essbase application complete with database, database calculation scripts, and database report scripts.

Once you have your system built and functional, the next course of instruction covers the available automation features included in your Essbase software package and how to use them. These chapters alone are worth the price of admission!

As an IT professional you quite rightly have a desire to understand multidimensional OLAP - this book gives you that understanding. Should you wish to embark on an exciting career as an Essbase developer/administrator, this book provides a fantastic foundation from which to grow.

Best of all, this book is filled with the tips and tricks that you can only get from many years and countless hours spent playing with Essbase. You get them all in just the time it takes you to complete this book.

What you will learn from this book?

* Dig into the concept of multidimensional database cubes and explore the similarities to and differences from traditional relational databases
* Build effective database outlines including dimensions and members
* Extract data from source systems like SQL Sources or Input Data Files and load them into Essbase cubes
* Create fast and efficient database calculation scripts for your Essbase applications
* Extract data into reports or downstream systems by writing professional database report scripts
* Make your work easier by automating Essbase processes like cube building or running calc and report scripts
* Generate quality dynamic ad hoc spreadsheets and reports by using Microsoft's Excel Add-In effectively
* Perform required and optional maintenance and performance-tuning tasks just like an experienced Essbase administrator

Approach

This book uses a practical step-by-step approach with the next chapter always building on the knowledge foundation created by the previous chapter.

Understanding and really grasping the multidimensional concept is difficult enough without a lot of confusing jargon thrown in. This book speaks to the reader in plain English with plenty of easy-to-follow examples. You will create, build, and maintain data for a fictional automobile company.

Who this book is written for?

This book is primarily for the IT professional who has a good understanding of IT principles and processes but is a multidimensional OLAP novice. Experienced OLAP professionals will also gain insight from this book.

Simply put, if you are in the IT field and wish to gain a functional level of knowledge in the world of Oracle Essbase, whether it be for a developer role or a PM or BA role, this is the book you need.