Introduction to Video Search Engines by David C. Gibbon and Zhu Liu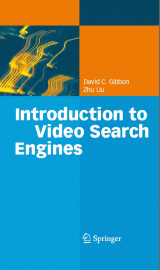 Video search engines enable users to take advantage of constantly growing video resources like, for example, video on demand, Internet television and YouTube, for a wide variety of applications including entertainment, education and communications.

David Gibbon and Zhu Liu describe the current state of video search engine technology and inform us about opportunities to contribute to the development of this field. Their book has a practical emphasis with the goal of bringing readers up to date on the state of the art in multimedia search technologies and systems. It explains the overall process of video content acquisition, indexing and retrieval with browsing, it provides overviews of constituent technologies such as information retrieval, Internet video systems, video and multimedia processing to extract index data, and it gives examples of research prototypes and existing commercial systems and describes their features. In parallel with the functional discussion, a historical perspective is provided, including many references to academic and industrial sources. Background information on digital media encoding and streaming standards, and information retrieval is also offered, making the book self-contained.

"Introduction to Video Search Engines" is intended for professionals and senior undergraduates or first-year graduate students in computer science or computer engineering, specializing in computer vision or multimedia systems. As multimedia search spans multiple disciplines, it is also valuable as a state-of-the-art reference for researchers and developers working in constituent technologies such as speech processing or information retrieval who seek to broaden their knowledge beyond their current areas of expertise.