Game Feel: A Game Designer's Guide to Virtual Sensation (Morgan Kaufmann Game Design Books) by Steve Swink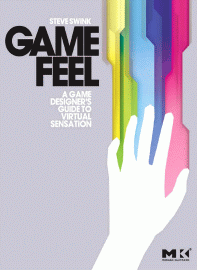 "Feel" is the essence of human-computer interaction. It is the single most important (yet often overlooked) element in games that makes the game art form unique. No other traditional art form like film, literature, music encompasses interactivity, as games do. This book bring "feel" to the forefront and gives it a proper voice.

Product Description
"Game Feel" exposes "feel" as a hidden language in game design that no one has fully articulated yet. The language could be compared to the building blocks of music (time signatures, chord progressions, verse) - no matter the instruments, style or time period - these building blocks come into play. Feel and sensation are similar building blocks where game design is concerned. They create the meta-sensation of involvement with a game.

The understanding of how game designers create feel, and affect feel are only partially understood by most in the field and tends to be overlooked as a method or course of study, yet a game's feel is central to a game's success. This book brings the subject of feel to light by consolidating existing theories into a cohesive book.

The book covers topics like the role of sound, ancillary indicators, the importance of metaphor, how people perceive things, and a brief history of feel in games.

The associated web site contains a playset with ready-made tools to design feel in games, six key components to creating virtual sensation. There's a play palette too, so the desiger can first experience the importance of that component by altering variables and feeling the results. The playset allows the reader to experience each of the sensations described in the book, and then allows them to apply them to their own projects. Creating game feel without having to program, essentially. The final version of the playset will have enough flexibility that the reader will be able to use it as a companion to the exercises in the book, working through each one to create the feel described.

--Swink demystifies this crucial, fundamental, and unexplored aspect of game design with case studies, fully interactive examples
--Interviews with industry luminaries and in-depth examination of many classic games from a fresh angle.
--What draws players in? Makes them addicted to game play? Feel is the key element that is so central to game design. Finally a book that covers the topic in an in-depth, practical way, with interactive exercises.
--Website: Fully playable interactive playset with ready-made tools for game and feel design, six key components to creating virtual sensation, and a play palette - so that designers can first experience the sensations before applying to own projects.