Professional Team Foundation Server by Jean-Luc David, Mickey Gousset, Erik Gunvaldson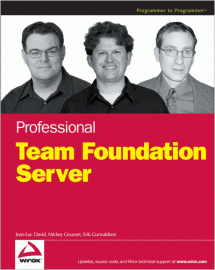 As the most important component of Microsoft's Visual Studio(r) 2005 Team System, Team Foundation Server is the central integration point that provides a collaborative environment for every member of a team, regardless of role. Since Team Foundation Server is so tightly interwoven with the rest of Team System, the authors have decided to present you with an invaluable resource that covers both, so that you may learn to set up and administer Team Foundation Server in order to effectively use the whole Team System toolset effectively.

Three Microsoft Team System MVPs cover how to plan a Team System deployment, complete a software project, and everything in between. They show you how to handle real-world challenges and tackle the tasks and scenarios that encompass the entire software development lifecycle.

What you will learn from this book

* How to implement IT governance such as Sarbanes-Oxley
* How to work with mixed environments (including Java and .NET)
* How to set up the product for large distributed environments
* How and why to take multiple lifecycles into consideration when deploying and using Team System
* How to create custom development tools and administer and customize work items
* How to monitor your team project metrics using SQL Server Reporting Services

Who this book is for

This book is for project managers, IT administrators, and anyone whose role consists of administering Team Foundation Server on a daily basis, running a software project, setting up users, or handling security.