Excel 2007 Formulas by John Walkenbach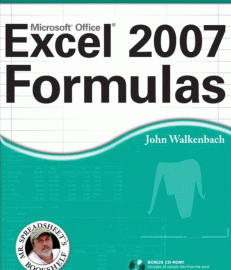 * This book is a single reference that's indispensable for Excel beginners, intermediate users, power users, and would-be power users everywhere
* Fully updated for the new release, this latest edition provides comprehensive, soup-to-nuts coverage, delivering over 900 pages of Excel tips, tricks, and techniques readers won't find anywhere else
* John Walkenbach, aka "Mr. Spreadsheet," is one of the world's leading authorities on Excel
* Thoroughly updated to cover the revamped Excel interface, new file formats, enhanced interactivity with other Office applications, and upgraded collaboration features
* Includes a valuable CD-ROM with templates and worksheets from the book


Excel master John Walkenbach has shared his expertise in two previous editions of this bestseller. Now he shows you how to create financial formulas, release the power of array formulas, develop custom worksheet functions with VBA, debug formulas, and more with Excel 2007. If you already know your way around the newest Excel and want to concentrate on using formulas to extend its capabilities even further, you've come to the right place.

It's estimated that only about ten percent of Excel users really understand how to get the most out of worksheet formulas. If you're ready to join that elite group, here's your membership kit.